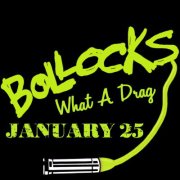 BOLLOCKS: What A Drag!

Taffy Vicious (Bruce Derfler) and Mikey Rotten (Michael Flowers) are proud to announce the 5th installment of Bollocks - Friday, January 25 (10PM-2AM) at the Alley Bar. Join us upstairs in the balcony. Never a cover, 21+

Bollocks is rock; punk, alternative, glam and brash. Bollocks is queer, but squares are welcome. Bollocks is sticky floors, a whiskey soaked mink stole, and a coarse mustache. Bollocks is Jayne County, David Johansen, and misfits like us. Bollocks is you.
The Alley


14 Pi Alley

Friday Jan 25, 2013
10pm-2am